Campus Tours and Information Sessions
From nationally recognized historic landmarks to modern, cutting-edge research facilities, UGA's campus is the centerpiece of our mission to inspire those who will lead, discover and serve in an effort to improve the world.
The University of Georgia is the birthplace of public higher education in the United States and our campus is a reflection of our commitment to our students, our alumni, our faculty and staff, and to our fans. There is no better place to spend your college years.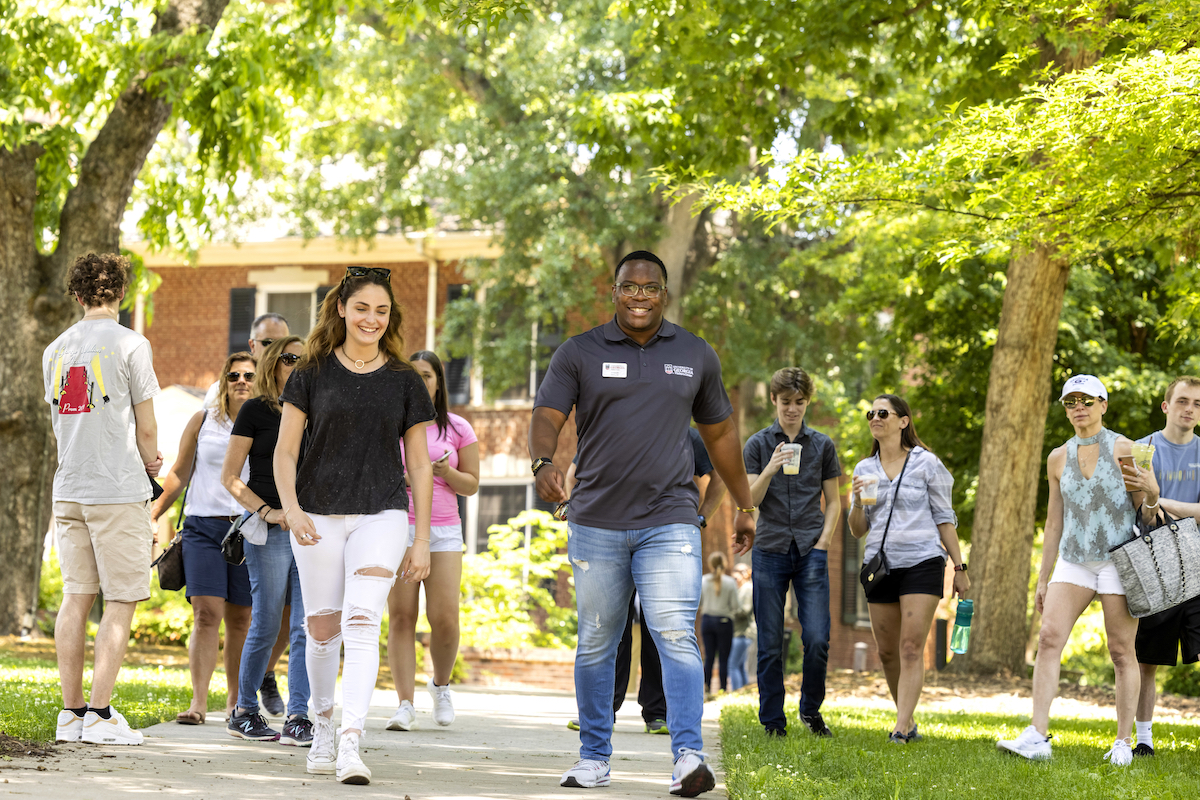 In-Person
Campus Visit Experience
Register for an in-person guided campus tour. This hour-long walking tour is led by student Tour Leaders and covers historic north campus. It will conclude in the heart of campus at Sanford Stadium. Space is limited, and registration is required.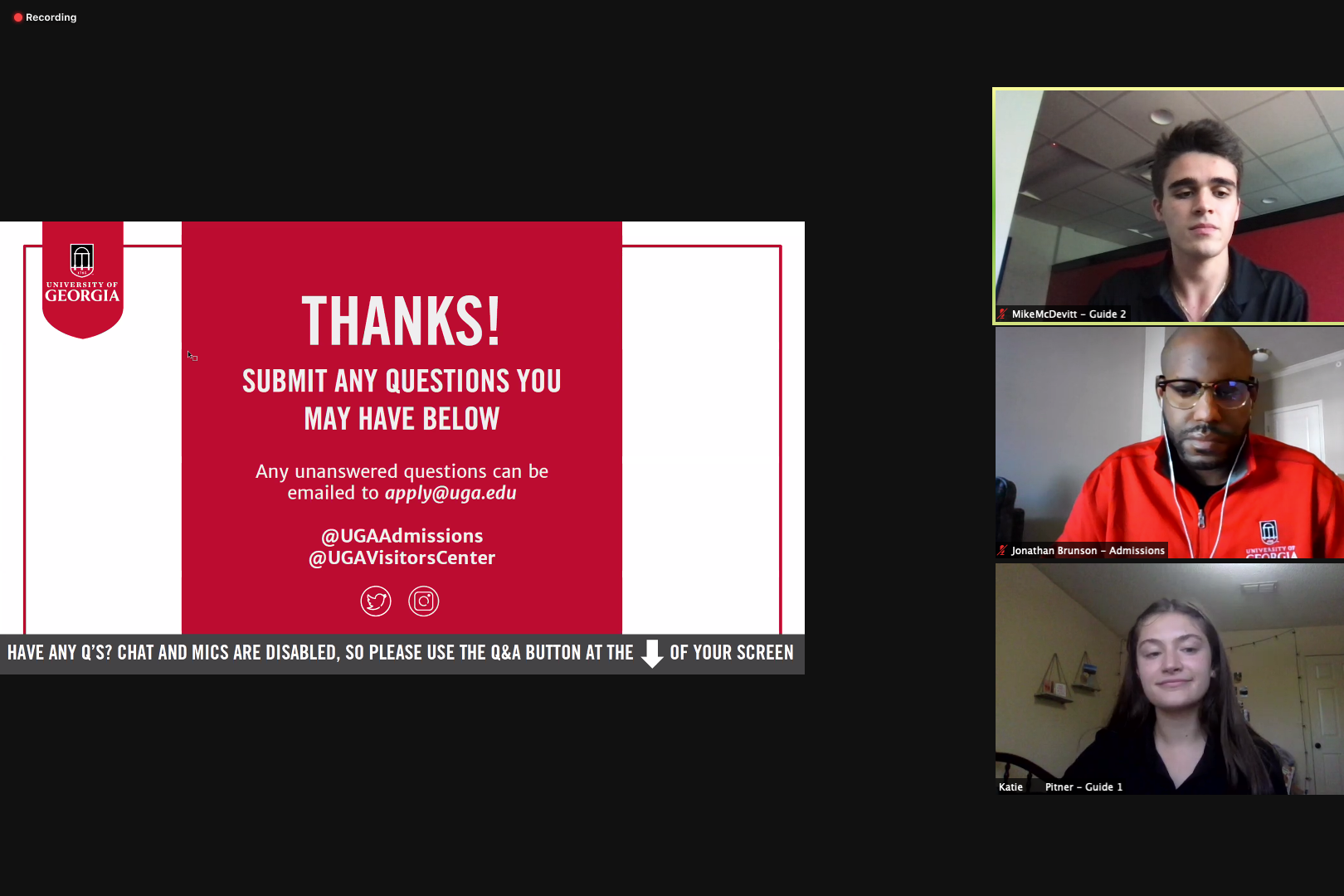 Virtual Campus
Visit Experience
Register for a live Virtual Campus Visit Experience which uses the Zoom webinar format to introduce you to campus. This hour-long experience includes a brief overview of the first-year admissions process followed by a virtual tour of campus led by student Tour Leaders.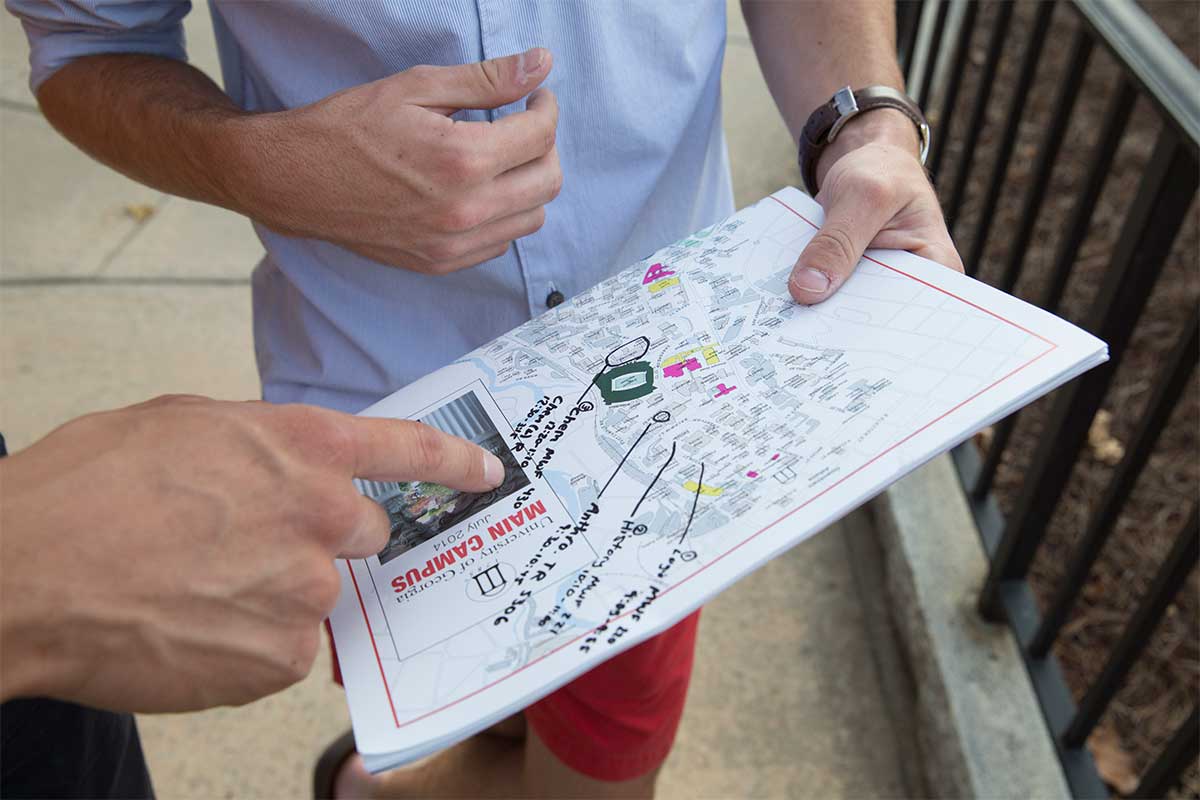 Self-Guided Tour
If you can't take part in one of our scheduled tours, we have an easy-to-use, self-guided tour map available for download to help you navigate campus at your own pace. Printed copies are available at the Visitors Center information desk and after hours at the dropbox by the front door.
Transfer Student Information Session
Our monthly Virtual Transfer Information Sessions last one hour and consist of a brief presentation by Admissions and the opportunity for live Q&A.
Group Tours
Special accommodations are available for groups of middle and high school students as well as groups of alumni, fans, and friends.
Accessibility Accommodations
The University of Georgia is committed to providing reasonable access and accommodations for people with disabilities upon request. To request a sign language interpreter or to notify us of the need for a tour vehicle with wheelchair accessibility, please contact the Visitors Center at (706) 542‑0842 at least one week prior to your visit. If visiting other offices on campus, contact those departments directly as far in advance as possible to request accommodations.
Questions about your visit?
Our tour guides are happy to answer any questions during the tour, but if you have questions before you arrive, please contact us.
Residence Hall Tours
Our daily tours do not include stops at residence halls, but tours of student housing are offered on certain dates throughout the year. Each UGA residence hall has a different style and culture. Freshmen are required to live on campus, so residence hall tours for incoming students are recommended.
Connect with Our Academic Departments
The Visitors Center tour and information sessions provide an overview of life at UGA. If you are interested in a specific school or college, you can reach out to them directly to introduce yourself and to find out about their programs and tours.
While You Are Here
During your visit in Athens, be sure to check out a few of our favorite spots on campus. These exciting UGA destinations are open to the public and some offer tours.
Campus Highlights
UGA's campus offers so much to see!
When you visit, be sure to tag us on social media.
#CommitTo